Sweetness filled the atmosphere as the pure love for His Holiness Lokanath Swami overflowed from the hearts of his disciples, aspiring disciples and well-wishers as they all came together to celebrate the auspicious Vyasa Puja ceremony of H.H Lokanath Maharaj.
Whilst devotees gathered to clean bhoga, others added the final touches to SrilaPrabhupada's Vyasa asana, the pandal and Gurumaharaj's Vyasa asana. All this whilst a third team made garlands for the honored speakers, Gurumaharaj andSrilaPrabhupada, expertly coordinated by Krishna Baladevadasa.
The grand celebration was held at the most beautiful (or as Maharaj would say: "Out of this world") Sri SriRadhaRadhanath temple in Durban, on the 8th of July. Beautiful red, white and lilac flowers adorned a royal white pandal that decorated the sitting place of the Vyasa asana.
The mandir promotes deity care in the form of Take Care of Krishna, where one sponsors a day for the presiding Deities. This day was also honored in the name of Gurumaharaj.
As devotees streamed into the temple room, bhajans were being led by Bhakta Rahul, followed by Guru Puja lead by DwarikadishKrishna dasaand Arati was performed by Rohini Kumar dasa. The Kirtan lead into the 4pmArati of their Lordships, Sri SriRadhaRadhanath, at the end of which AtmaramaGauradasa , the Master of Ceremonies welcomed all the assembled devotees.
 A most befitting introduction of Lokanath Swami was delivered by H.GVibu Caitanya Prabhu the temple president of the Sri SriRadhaRadhanath temple. In his introduction of Maharaja, he mentioned a discourse by H.H Bhakti Thirta Swami, where H. H Bhakti Thirta Maharaj was speaking about how valuable all the devotees of ISKCON are, and when he got to Lokanath Swami, he described that;" When will the day come when the residence of the lower planets call Lokanath Swami saying Please come .. Please come.., bring your PadaYatra to the hellish planets so that you can uplift us?"
Vibu Caitanya Prabhu also mentioned a time when H.H Bhakti Thirta Maharaj and Lokanath Swami engaged in non-stop Kirtan from ManagalArti all the way beyond breakfast.
No words can describe the heart felt message sent by H.H PartaSarathi Das GoswamiMaharaj for the occasion of Gurumaharaj's Vyasa Puja, which was read by his disciple H.G VrajaHariPrabhu: "My Dear esteemed senior God brother, Lokanath Swami, I bow down in all directions at your lotus feet and pray that you may mercifully glance in my direction. You are one of SrilaPrabhupada's main pillars, and he personally gave you Sannyasa. SrilaPrabhupada gave sannyasa to many disciples of which only 7 are physically present and you are one of them. Over the years you have rendered incredible service to SrilaPrabhupada's mission and I hope that one day I can also render one millionth of that service to His Divine Grace A.C Bhaktivedanta Swami Prabhupada. Maharaja you are a humble Vaisnava and when I hear you sing I think about VasudevDatta and MukundaDatta, who were both great kirtaniers in the time of Sri Caitanya Mahaprabhu"
The sweetness and love kept flowing as appreciations by senior devotees were being delivered. Her Grace Mother Prasuti (AGTSP) offered a heart touching offering to Maharaj: "Of all the people who have made my hard heart soften, it'sMaharaj'skirtan, because it is so difficult to get beyond the bodily platform, to actually transcend is not such an easy thing, but when Maharaj is singing kirtan and one jumps in response, it's asif you get on the same boat as he is on, and it's the most ecstatic feeling of my life"
H.G SwarupDamodarPrabhu, the GBC secretary for South Africa also read his appreciation; "Queen Kunti speaks this and in different places in the Bhagavatam it is described, that Krishna is really the property of all those who are "Akinchna", those who are not complicated, those who are very simple, those who are not materially attached, this is Maharaj"
The highlight of the night was a live Skype call from H.H Lokantah Swami, everyone was in complete awe as Gurumaharaj's smile beamed all the way from Pune through the screen touching everyone's hearts. Gurumaharaj was pleasantly surprised by the beautiful cake that his disciples made for him, he sweetly addressed everyone and the conversation ended with Gurumaharaj mentioning his recent visit to Durban, He spoke of how he has fond memories of the special gathering he had with his disciples at the Krishna Goshala in Thornville. Then Maharaj once again touched the hearts of all saying "I lost my heart in Durban. I will have to come back to get it". With that Maharaj left everyone with a great sense of separation but with a greater sense of excitement as everyone looks forward to his next visit to South Africa – for he once said: "separation ends in union".
As H.G Krishna Kesavadasasang the Sri Gurvastakam, over 50 bhoga offerings were being offered by Krishna Baladevadasa and his team. This lead into Gurupuja which was led by Bhakta Rahul and ended with a rocking Kirtan by the AtmaramaGauradasa.
The feast was then served, which was the perfect end to an unforgettable celebration. Love, kindness and enriched association, is what all the devotees were left with, after a very joyous Vyasa Puja.
Devotees preparing bhoga to cook at the Food for Life kitchen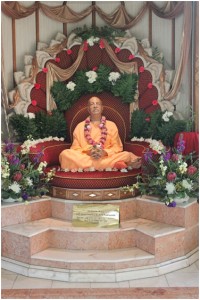 Srila Prabhupada's Vyasa asana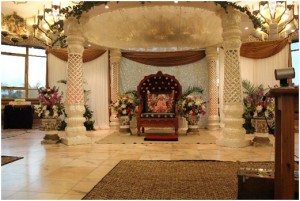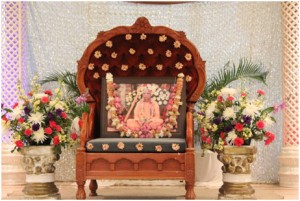 Gurumaharaj'spandal and Vyasa asana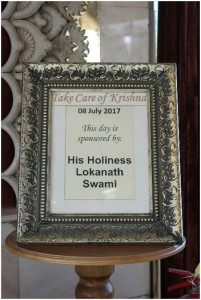 The day was sponsored in honor of Gurumaharaj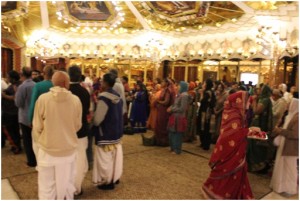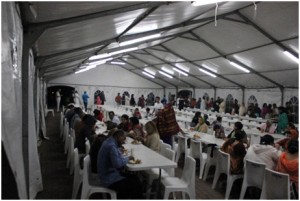 The penultimate stage: Arati.                            And the final: prasada feast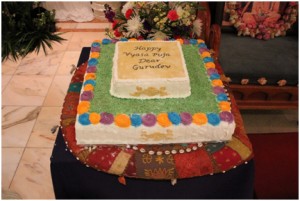 A sweet offering to our sweetest Gurudeva
H.H Lokanath Swami Maharaj ki Jaya.
Srila Prabhupada Ki Jaya.
Your Servant
BhaktinBhavna
(Photos by Krishna Baladeva Das)