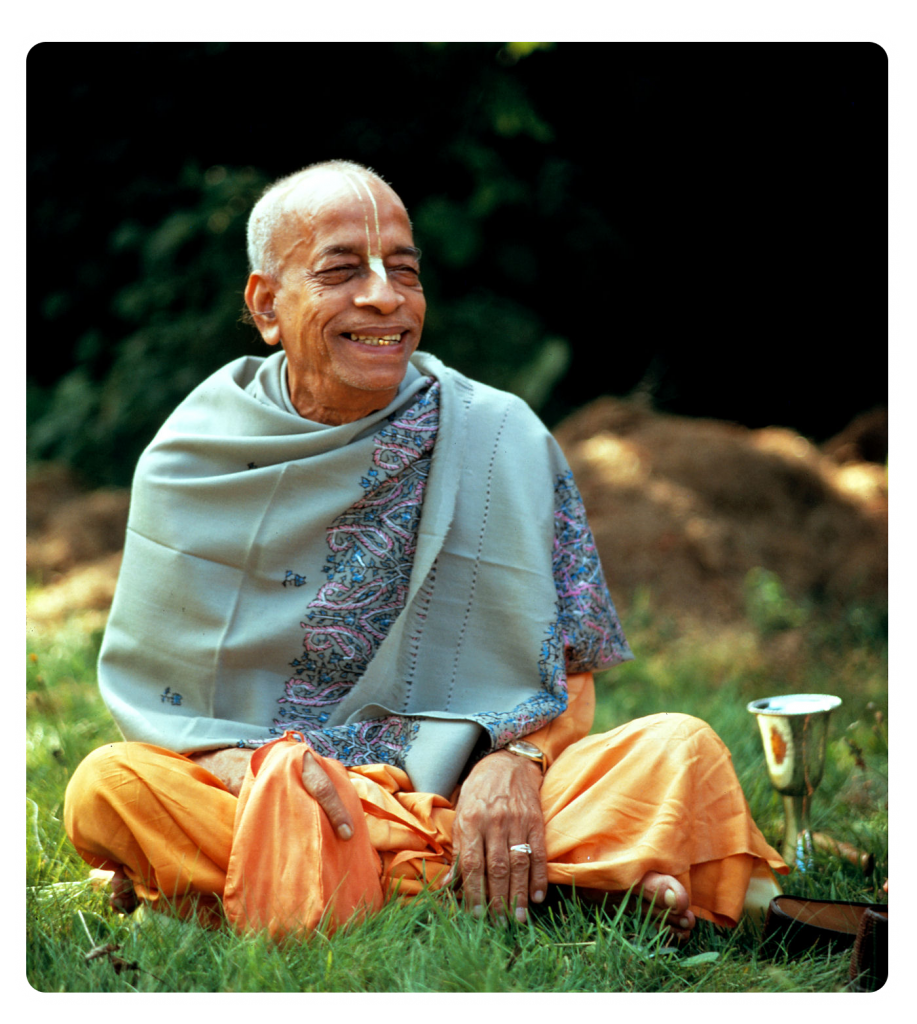 My dearest master, Śrīla Prabhupāda,
Please accept my most humble obeisances! All glories to Your Divine Grace!
On this occasion of the 125th anniversary of your birth, Your Divine Grace will be pleased to hear that it has been a phenomenal year for the International Society for Krishna Consciousness. We celebrated several golden anniversaries, headed by the anniversary of the installation of Choṭa Rādhā Mādhava, the first Gaura Pūrṇimā festival at ISKCON Māyāpur, and Your Divine Grace's laying of the TOVP's cornerstone. In addition, we celebrated the 100th anniversary of Your Divine Grace's receiving Śrīla Bhaktisiddhānta Sarasvatī Ṭhākura's first instructions to you.
While commemorating the anniversary of ISKCON Māyāpur's first Gaura Pūrṇimā festival, I reflected on that festival, which was held in your divine presence in 1972. Even though you had been actively involved in acquiring the property in Māyāpur, it would be the first time Your Divine Grace would be visiting ISKCON's property. It was on the auspicious day of Gaura Pūrṇimā that the cornerstone-laying ceremony for the Śrī Śrī Rādhā-Mādhava Temple (later known as the TOVP) was held.
After this festival you went to Vṛndāvana to hold another cornerstone-laying ceremony. You wanted to feature Kṛṣṇa and Balarāma because the area of Ramaṇa-reti, where the temple was to be established, was the spot where Kṛṣṇa and Balarāma played as cowherd boys with Their friends. Your Divine Grace held the cornerstone-laying ceremony for the Kṛṣṇa-Balarāma Temple with one hundred people in attendance, and as in Māyāpur, you descended into the ceremonial pit and placed the Deity of Ananta Śeṣa there.
Then on March 22 you held yet another cornerstone-laying ceremony, this time for the Rādhā-Rāsabihārī Temple in Bombay. This was the third cornerstone-laying ceremony in the space of a month. Your many letters to your disciples around the world bear testimony to your deep interest in temple construction. I was just a brand-new bhakta who had dropped out of college to join the devotees at Hare Krishna Land in Bombay, so I missed the 1972 Māyāpur festival. But your mercy and compassion know no bounds, Śrīla Prabhupāda, because immediately thereafter you came to Bombay and held the festival at Hare Krishna Land. For me it was no different from attending the festival in Māyāpur. I might have missed the 1972 Māyāpur festival, but in one sense I did not, because you brought the festival to Bombay.
So in 1972 the Māyāpur festival was born, and in 1973 it began to gather momentum, and in 1974 it blossomed in an unprecedented way. Encouraged by the success of the first Gaura Pūrṇimā festival, you invited all your disciples to attend the second one in 1973. Since 1973, I have attended all the Māyāpur festivals because I had made a promise to myself that I would never miss another Māyāpur festival.
Throughout 1973 I had the wonderful opportunity to serve as head pūjārī for Śrī Śrī Rādhā-Rāsabihārī in Bombay. When Śrī Śrī Rādhā-Mādhava were installed in Māyāpur 1972, I began nurturing a desire to do Deity worship in Śrīdhāma Māyāpur. Jananivāsa Prabhu, the head pūjārī in Māyāpur, was gracious and allowed me to bathe, dress, and garland the golden form of Śrīmatī Rādhārāṇī. While I served the louts feet of the Deities, my thoughts would be fixed on the lotus feet of Your Divine Grace as you took your morning walk on Bhaktisiddhānta Road. Śrīla Prabhupāda, I was so conscious of your presence that even while serving Rādhāraṇī I would listen to the kīrtana in Rādhā-Mādhava's temple in front of the Lotus Building. I knew all the devotees would be greeting you as Your Divine Grace returned from your morning walk. I would hastily add the final touches to Śrī Śrī Rādhā-Mādhava for Their beloved senā-pati bhakta to greet Them. I remember this so vividly. As soon as the curtains opened, Your Divine Grace would offer prostrated obeisances and stand with folded hands. The praise emanating from your mouth and the beaming smile on your face were your reward to us for our worship of Rādhā-Mādhava.
Kolkata will continue to be exceptional in many ways, Śrīla Prabhupāda. This year we celebrated the inauguration of the restored historical building at 1 Ultadanga Junction in Kolkata. This is the very same building and place where your Guru Mahārāja started his preaching movement and stayed for fourteen years. This is also the place where you met your Guru Mahārāja for the very first time, in 1922, and no sooner had you and your friend prepared to sit down that Śrīla Bhaktisiddhānta Sarasvatī Thākura said, "You are educated men. Why don't you preach Lord Caitanya's message throughout the world." Although Bhaktisiddhānta Sarasvatī Thākura gave the instruction, in essence this meeting and instruction were orchestrated by Śrī Kṛṣṇa Caitanya Mahāprabhu, who engaged your Guru Mahārāja as the medium through which to convey the instruction. Caitanya Mahāprabhu knew that Abhay Charan De was mora senā-pati bhakta, "the commander-in-chief of My saṅkīrtana army." It was as if Caitanya Mahāprabhu were whispering to Bhaktisiddhānta Sarasvatī Thākura, "He has come to you. He is right here. Convey the instruction." Śrīla Prabhupāda, this building is the birthplace of the Gauḍīya Maṭha and ISKCON, and the Chief Minister of West Bengal has declared it a Heritage Site now.
We are now concluding the celebrations of the 125th anniversary of Your Divine Grace's birth. After performing a herculean task and jumping through many administrative hoops, ISKCON Kolkata has finally managed to acquire the very property where you appeared under the jackfruit tree in Tollygunge Road—yet another significant place to be revered and remembered.
Your Divine Grace expressed a strong desire to preserve the ancient manuscripts of our previous ācāryas' writings. This was the inspiration for the creation of the Bhaktivedanta Research Centre (BRC) in Kolkata.
Śrīla Prabhupāda, the original Rādhā Govind temple at 3C Albert Road was the first ISKCON temple in India that was established, in early 1971. In the last few years the dedicated team of devotees of ISKCON Kolkata have successfully renovated it, ensuring that this temple will be well preserved.
These holy places will become pilgrimage sites for visiting devotees from around the world who go on parikramā in Kolkata. Through the endeavors of many devotees, Kolkata has become the gateway to Śrīdhāma Māyāpur.
Śrīla Prabhupāda, I fall at your lotus feet to seek your blessings on this auspicious occasion of your Vyāsa-pūjā. The numerous festivals and commemorations have become pivotal opportunities to deeply remember Your Divine Grace, your instructions, your mercy, your love for your devotees, and your līlās.
Your eternal servant,
Lokanāth Swami Initiation: 1972 October. Vrindavan, India