Dear Srila Prabhupada,
Please accept my most humble obeisances at your lotus feet! All glories to your glorious preaching activities which are still continuing through your movement and your followers.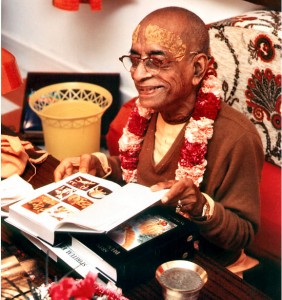 It is amazing that you gave me a service that involved using my two God-given feet and I depend on the mercy available at the shelter of your divine lotus feet!
Last fall, Padayatra India observed its silver jubilee celebration in Pandharpur, which gave an opportunity to several Padayatra India leaders and participants to share their memories and realizations. Right now I am in the process of writing a book on the numerous Padayatras that took place since the first one in 1976 from Vrindavan to Mayapur. I am also planning to participate in a few walks in Europe this summer. Padayatra is still very much alive, by your mercy, and with the help of the dedicated devotees you sent to organize and manage these joyous walking festivals on the different parts of the planet. You made me a Padayatra man, and this service which you personally entrusted me, is still the most important one in my life.
I can still recall the beaming smile of satisfaction and pleasure you radiated as I narrated to you all the details of our first Bullock Cart Traveling Sankirtana Party at the 76th Allahabad Kumbha-mela. This encounter is still very vivid in my mind and heart. How can I forget the incredibly warm reception you gave us Padayatris during the 1977 Gaur Purnima Mayapur festival? The satisfaction of having reached our goal (Mayapur) was surpassed by the feelings of joy upon being showered by your kind words, loving gestures, fragrant garlands and first class sweets. To this very day, these memories continue to nourish my desire to maintain and expand this ISKCON program evermore.
Even though we may at times blow our trumpets over whatever we have achieved thus far, this is in fact just a drop in the bucket of your oceanic vision. You were envisioning no less than millions of sankirtana bullock cart parties all over the world. At most, we had a few dozen of them in the past thirty five years, which may make this goal of millions of carts seem totally impossible to achieve. But, as the senapatibhakta of Sri Caitanya Mahaprabhu, you have planted the Padayatra seed, and we are confident that it will continue to grow and expand and assist in a very significant way in the spreading of the holy names of the Lord to all nooks and corners of this planet. Of course there is the element of time constraint. If this vision of millions of carts is not realized within my lifetime, I am sure that it could be done within the next 9500 years, the Golden Period of the Age of Kali. Just as it will take time for the holy names to spread to every town and village, this vision of millions of carts could also be achieved within that period. In fact thousands of bullock carts now exist in rural India, and if the masses revive their dormant Krishna consciousness by taking to the holy names, why should the Indian bhaktas not choose to use the carts they already have to spread the sankirtana movement all over Bharata-varsa, and even abroad?
On this occasion of your Vyasa-puja I would like to offer you the stories and realizations of four devotees who dedicated many years of their lives to Padayatra:
Jaya Vijaya das
(who was Padayatra India leader for 11 years)
"In India the murtis of Nitai Gaurasundara have one hand up and one extended, so the Padayatris have a little joke among themselves: the hand of the Lord that is up means "Stop"; They stop all the traffic, the buses, the camel carts, the rickshaw walas, the buffalos, etc. The bottom hand that is extended means, "Take": take the mercy, take Krishna prema. On Padayatra India the devotees have observed that all the living entities who happen to see the cart and the Deities always stop and take a look at the camels, cows, pedestrians; They ask: "What is it? What is going on here?" This is testimony of the potency of Mahaprabhu and His extensions. Usually people take their wheels to go to the temple, but on Padayatra the Lord goes on His wheels to meet the people."
Prasanta dasi
(she spent three years on Padayatra India and compiled the Padayatra Worldwide Newsletter for many years):
"Padayatra is such a pure program, free from the petty things that may go on in the temple. Each day we would get up early, take bath, and chant near the Deities before mangal arati. I could hear the pujari doing "ding ding ding" inside the enclosure, waking up the Deities. Padayatra has the most beautiful mangal aratis in the world, right under the stars! Jaya Vijaya Prabhu would ensure daily that the Padayatra started moving with the rising sun. We would hear the bells of the bulls, the kirtan and the wheels of the cart, while the sun was rising; it was so beautiful. After chanting my rounds I would distribute books and walk with the bulls while chanting, which made me understand why they represent dharma. As I walked with them day after day, and patted them I could perceive beautiful qualities in them. I saw that they were very peaceful, noble and grateful. They possess such amazing qualities. I loved giving the people passing by the sugary prasadam balls we distributed in India, and I would ask them for donations. When we distributed books, so many people would come and almost assault us, taking the books out of our hands. It was such an experience, whereas in the West it was a battle to give a book to anyone. Sometimes, after walking 20 kilometers, we would have harinams for 3-4 kilometers around the village. People would welcome the party, wash the feet of the bulls, garland them, bring grain, food and water for them; they also worshipped the devotees, and washed the paraphernalia. People got to do a lot of service – this is the beauty of Padayatra, its potential to reach people and give them an opportunity to serve the Lord. For the devotees, Padayatra is an opportunity to be very sincere, serious and together."
Parasurama das
(who organized many walks in many countries including Ireland, England, Kenya):
"When you get on the open road without really knowing where you are going to end up, what you are going to eat tonight, where you are going to sleep, it is a relief to know it is all up to Krishna. In the MVT restaurant in Vrindavan, you get a menu and you can choose what you want, while on Padayatra you have to let Krishna choose. Nitai Gaurasundara, Krishna, They are involved in the decision-making and in the management. They are not excluded from the day to day life, They are part of the team, Their lilas continue. It is not that 500 years ago, They left, and it is not that 28 years ago Prabhupada's lilas stopped. On Padayatra the devotees get little glimpses of the lilas still unfolding. They can almost see Krishna pulling all the strings."
Avadhuta Siromani das
(He walked with his wife and a horse cart from Gita Nagari to Mexico):
"In Mexico in 2005, we once stopped in a sorgo plant and met Cesar, a typical Mexican man with a big smile on his face, a moustache, leather boots, a big belly, a large sombrero (the traditional large hat for men), and a good heart. He got to know us a little, and he invited us to stay and rest for a few days at his place. During those days I very quickly saw how his heart was transformed, certainly by the causeless mercy of Sri Nityananda Prabhu, as he had done five hundred years ago with Jagai and Madhai. I meditated on that verse of the Caitanya Caritamrta: "Sri Nityananda Prabhu, having blessed Jagai and Madhai with His causeless mercy quickly left that place, but let them taste the nectar of the Holy Name." Gradually Cesar's curiosity turned into asking for personal advice and counseling. He started to read from the sastras, and every night he would take prasadam. He liked it so much that he always came for a second plate. I saw him slowly and gradually approach the Deities, at first glancing at Them. One day he came over to me at the Deity wagon and inquired: "Are They saints?" I replied: "Yes, something likes that. They are Divine Personalities distributing a message of love for God for the welfare of the world." Cesar asked: "Do They perform miracles?" "Oh yes" I laughed, "Just look at where we are now, and where we are coming from!" He smiled and remarked: "Yes, that's a miracle." The next day he approached me in a very personal mood, and revealed his mind to me "I know you are just passing by, but I´ am sure
that They (Deities) came here to change my life. They are performing a miracle with me and my almost broken family." He went on to say that he was learning the Maha-mantra and trying to chant, and that he was seeing life from a different perspective. I listened and fanned his spark of devotion toward the Deity. The night before we left, Cesar came before the Deities to offer prayers. Afterwards, without any trace of shyness, he asked if he could have a picture of Them. When we gave him a picture, he said very happily, "I´ am going to put Them on an altar and pray to Them". He took his picture, thanked us, looked a last time at the murtis of Sri Sri Nitai Gaurasundara and asked us to keep in touch with him through internet before leaving."
Your servant, praying to walk more, and make
others walk and chant for your pleasure
evermore …
Lokanath Swami
.