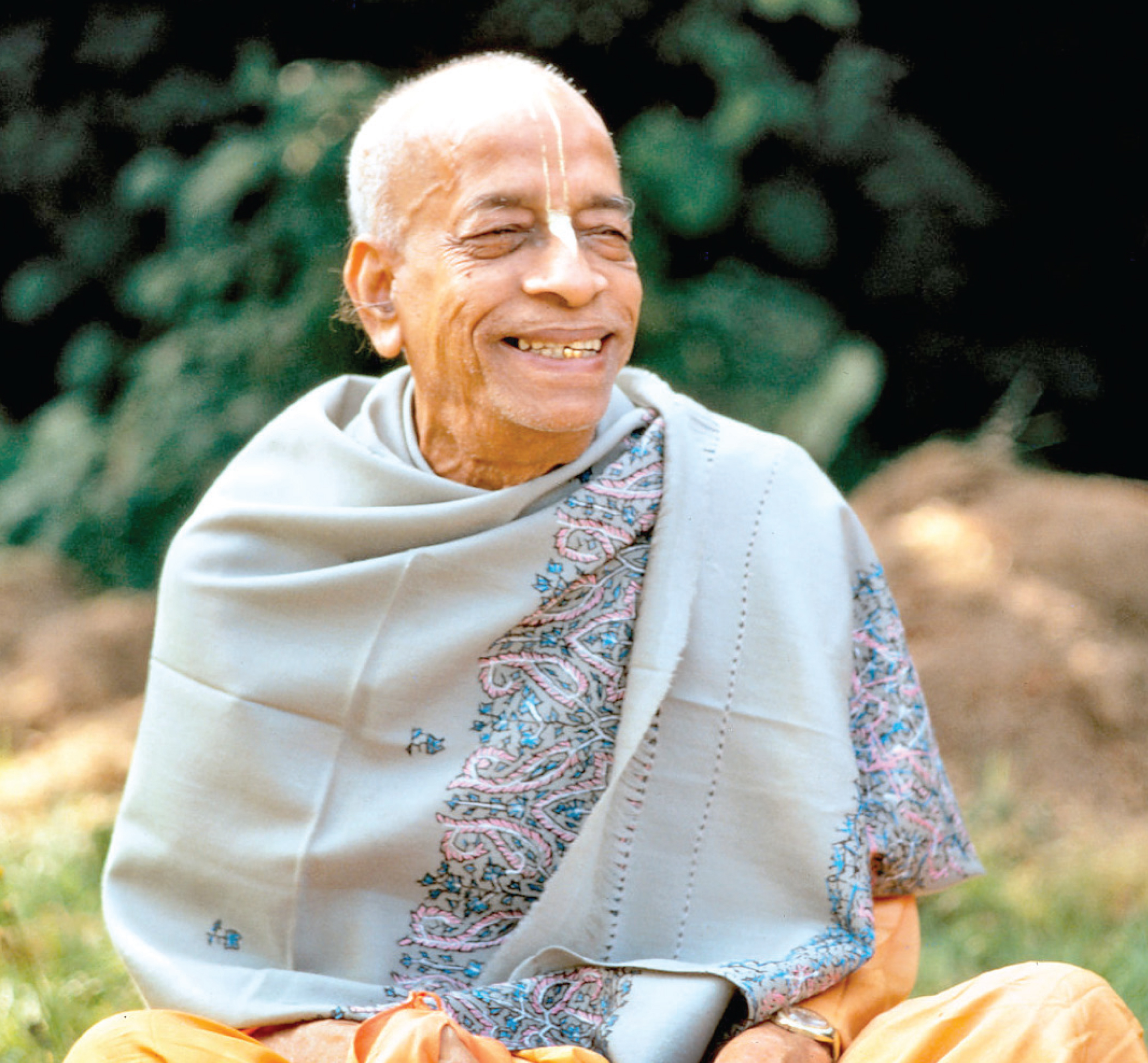 My Dearest and Most Beloved Srila Prabhupada,
Please accept my most prostrated obeisances at the dust of your lotus feet on the most auspicious occasion of your 123rd Vyasa Puja celebration. All glories to Your Divine Grace. All glories to your causeless mercy.
Born in 1896 in Calcutta you had already begun to be motivated by altruistic behavior when you became a follower of Gandhi, who always carried the Bhagavad-gita and strove for political emancipation. It was in 1922 that Sriman Narendranath Mullik insisted that you join him to visit a sadhu in a house at Ulta Danga. This was when you met your spiritual master, Srila Bhaktisiddhanta Sarasvati Thakura for the first time, and you became a follower of the Madhva Gaudiya Sampradaya of Lord Caitanya. At this very first meeting Bhaktisiddhanta Sarasvati Thakura advised you to preach the cult of Caitanya Mahaprabhu in English in the Western countries. Prabhupada, you said to Srila Bhaktisiddhanta Sarasvati Thakura that in order for anyone to take Caitanya Mahaprabhu's message seriously, India firstly needed to be freed from foreign domination. You further stated India as a dependent nation was not primed to preach the cult of Caitanya Mahaprabhu. However, after some debate, you were defeated, and became convinced that the message of Sri Caitanya Mahaprabhu was the only panacea for suffering
humanity.
This instruction to reach the West in English from Srila Bhaktisiddhanta Sarasvati Thakura was a prompting from Lord Caitanya, through your Guru Maharaja to you. This became the springboard
for a lifetime in preparation for this phenomenal task, the founding of the International Society for
Krishna Consciousness which would constitute the proliferation and proselytising of Krishna consciousness worldwide. Lord Caitanya Mahaprabhu had appeared for the benefit of the whole world and predicted that His holy name will be heard in every town and village. Bhakti Vinoda Thakura, followed by Srila Bhaktisiddhanta Sarasvati Thakura had already laid the foundation and set the scene for the propagation of the 'Caitanya Cult'. This mission had to be carried forward seriously and realized, and Prabhupada, that is what Your Divine Grace magnificently and meticulously did. Through the Hare Krishna movement known as ISKCON, you persevered with
Lord Caitanya's work.
A lot has happened in the fifty-three years since the formation of the International Society for Krishna Consciousness.
In 1965 when you arrived in Boston for the very first time, there was no joyous reception and Prabhupada, you did not know which way to turn. These days, on the exact moment of your arrival, the Commonwealth Pier in Boston and beyond reverberates with the sound of kirtanas, mrdangas and karatals with devotees from all corners of the globe celebrating your arrival in America.
As far back as 1977 you had shared with us the aphorism that the British Empire claimed itself to be 'the empire on which the sun never sets.' Anyone who has visited England will know that the sun actually never rises there. In comparison, it is in the ISKCON Empire founded by you that the sun never sets. Each day, given the particular time zone, the resounding blast of a conch shell announces the beginning of mangala arati at an ISKCON temple somewhere on this planet.
The KGB, the 'Committee for State Security', declared that the three main threats to the Soviet Union were "pop music, Western culture, and Hare Krishna." After the fall of communism the Newsweek magazine (1994) noted that the Hare Krishna movement was the fastest growing religion in Russia. There are close to seven hundred thousand Hare Krishna followers in former Soviet Union.
I have just attended the opening of a magnificent, white marbled ISKCON temple in Rajkot, Gujarat. This triggered in my mind, thoughts of a conversation at 1977 Kumbha-mela between you and a gentleman, who had questioned you about the reason for opening so many temples when there were already numerous in existence. You expertly asked the gentleman who the woman and boy sitting close to him were. He replied that they were his wife and son. I still vividly remember your response: "There are so many boys all over the world. Why did you give birth to one more?"
The gentleman vehemently stated, "But this is my son." Prabhupada, you responded likewise.
"There are many temples, but the ones ISKCON was opening will be my (our) temples. These are Caitanya Mahapabhu's temples." Srila Prabhupada, you would be pleased to know that to date there are close to around 1000 ISKCON temples, centres worldwide.
ISKCON Padayatris are constant and consistent globetrotters. The Padayatra teams have walked more than two hundred and sixty-thousand kilometres worldwide, visiting towns and villages in one hundred and ten countries. They do not only visit towns and villages, but also visit the people in between the towns and villages. This has exceeded Caitanya Mahaparabhu's prediction as the teams spread the holy name, promote simple living , high thinking, hold cultural programs, make friends and distribute books.
I recall an incident that took place in Mayapur a few years ago. The Bhaktivedanta Book Trust (BBT) were making a presentation to the Governing Body Commission (GBC) during a Plenary session. During the presentation a light was consistently blinking at the exact interval of about two seconds.
We were all wondering what would be the significance of this blinking light. Towards the end of the presentation the BBT presenter revealed that every time the light blinked somewhere on the planet your books were being distributed! One blink, one book. To date more than half a billion BBT books and magazines have already been distributed.
Srila Prabhupada, Ratha-yatra festival celebration was always a treasured event. You liked the festival so much that as a child you wanted your own cart so that you could have a Ratha-yatra parade. Lord Jagannatha is known as the "Lord of the Universe". You began introducing this joyous event in different parts of the world. Today Ratha-yatras are spectacularly and regularly celebrated in close to seven hundred towns and cities all over the world and Lord Jagannatha has successfully been established as the Lord of the Universe.
You started the Sunday festival which became known as the Sunday love Feast. Many more festivals followed – Mayapur – Vrndavana Festivals, Padayatra Festivals, Janmastami Festivals. The list is vast. When you arrived in India your Western disciples started the Hare Krishna Festival at Cross Maidan in Bombay. I was fortunate enough to be a part of that festival and my deep connection with ISKCON, and you Srila Prabhupada emerged through these flamboyant festivals. Had that festival not been organised, I would not have linked with you.
In relation to the idea of festivals, Narada Muni's conversation with Bhaktidevi comes to mind
anyadharman tiraskrtya puraskrtya mahotsavan
tada naham harer daso loke tvam na pravartaye
"If I do not preach your message, subdue all other religions and make devotional festivals predominant then I shall not be considered the servant of Lord Hari. In Kaliyuga those people who follow you, even if they are sinful, will attain the abode of Lord Krsna without fear." (Padma Purana)
I deduced that you are the acarya in the line of Narada Muni and you have followed the same strategy by organising festivals and inspiring your followers to do the same. Today festivals are an integral part of ISKCON. With a myriad of colourful decorations, multi-course feasts, elaborate rituals, kirtanas, dance and dramas, festivals make spiritual progress a fun-filled experience. More than six thousand festivals are held annually in ISKCON all over the world. All these festivals serve as outreach programs,where an unlimited number of people are joyfully exposed to the message of
Sri Caitanya Mahaprabhu.
During the 1972 Mayapur Festival you saw Bengali children rummaging through the leftovers on the leaf plates left by devotees. Almost instantly you gave your senior disciples the following instruction: "A temple means prasada distribution. No one within ten miles of an ISKCON temple should go hungry." You termed ISKCON the kitchen religion. This served as an inspiration which gave birth to ISKCON's Food for Life program. Food for Life Global has two hundred and eleven projects worldwide and distributes two million plates of free prasada to the needy and hungry daily. The Annamrita, Midday meal scheme in India which feeds school children, is distributing over 1.2 million plates of prasada daily.
Srila Prabhupada, all these temple constructions, Ratha-yatras, book distribution, Festivals, global walking Padayatras. Education and training programs, and all other ISKCON activities and programs are expanding strongly, continuing and still counting. Through these ISKCON activities, the message of Gauranga which is the panacea for suffering humanity, is being spread as prophesized in 1922.
Founder acarya Srila Prabhupada Ki Jai!
Your insignificant servant,
Lokanath Swami