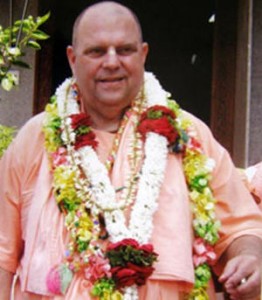 My dear Jayapataka Maharaja,
Please accept my humble obeisances.
All glories to Srila Prabhupada!
Wish you a very happy 63rd Vyasa Puja day. Considering your size, your stature and most importantly, your achievements, I always thought that you were much older than me. Now I find that we are of the same age – I'll also be 63 in a few months from now.
As I always thought, his size and his stature and his achievements, I always thought that he was much older than myself. Now I find out that we are of the same ageiI'll also be 63 in a few months. You are the very epitome of "Jnana vriddha" – full of realised knowledge and experiences.
mükaà karoti väcälaà
paìguà laìghayate girim
You have the special kripa of Srila Prabhupada and Lord Sri Caitanya Mahaprabhu. Though practically invalid, you are still the same globe trotter – crossing mountains and oceans in the cause of Gaura vani pracarine – broadcasting the glories of Gauranga. You are a great Gaura bhakta and are always engaged in revealing Gauranga's Dham and pastimes.
When the going gets tough the tough get going – as goes the saying. During the recent Navadwip Mandal Parikrama, you were crisscrossing islands and rivers and making it a point to visit every single parikrama every day. It was putting "us" – the so-called healthy devotees – to shame. You are just unstoppable, so you may keep going for Gauranga!
While I'm extremely happy that your speech now is much clearer and intelligible, I pray to Gauranga for further and faster recovery.
Thank you for your understanding and friendship as also for all the encouragement and inspiration that you have given me.
Your humble brother and servant,
Lokanath Swami
His Holiness Jayaptaka Swami Maharaja reply
My Dear Godbrother Lokanath Maharaj,
Please accept my humble obeisances! All glories to Srila Prabhupada!
His Divine Grace AC Bhaktivedanta swami Prabhupada was a great general (senapati) of Sri Caitanya Mahaprabhu. He spread Krishna Consciousness to every continent of the world. In 1968 Srila Prabhupada told me to be a member of Lord Krishna Caitanya mahaprabhu's army. I joined this transcendental army.
I got wounded but in spite of this I am still serving in Lord Krishna Caitanya's army under Srila Prabhupada. We don't use weapons of violence. We should try to give out the mercy of Nitai Gaurasundar. I am trying to do this in spite of physical impediments. It would be great spiritual bliss to be able to do anything in service to guru and Gauranga.
You have qualified me but I can't do nothing without blessings of Lord Krishna Srila Prabhupada. If I do anything it is only due to theirs mercy. I take this opportunity to offer my heard felt obeisances to you. I am very grateful you remember me I hope I can have your prayers and blessings to serve our spiritual father with every breath until I breath my last in this body.
I hope this finds you healthy & blissful in Krsna Consciousness.
Your servant,
Jayapataka Swami
(letter is transcribed by Dhanya Nimai Das brahmacari)
Date : 11-Apr-12