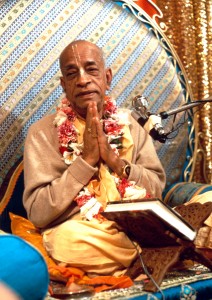 Dear Srila Prabhupada,
On this most auspicious occasion of your appearance day please accept my most humble obeisances at your lotus feet. All glories to you, Srila Prabhupada!
Recently I visited yoursamadhi mandira in Vrndavana Dhama. After Offering obeisances, I began circumambulating you, and as I did so I had a strong, clear vision that from where you are sitting in the samadhi all the instruction, or vani, that you spoke is radiating, floating, spreading, and filling the whole sky. You also keep appearing in my dreams. Thank you very much for these amazing darsanas, Srila Prabhupada.
I am fifty-three years old now, and I estimate that the balance remaining in my life is about fifteen to twenty years, thirty at the most. Of course, death might come at any moment, but we hope that there are still twenty to thirty years remaining at our disposal. I am always reminded of your encouraging words: "Prepare to go back to Godhead in this one lifetime." You used to say that we should join the dancing party of Radha and Krsna at the end of this life. Then you used to add, "We should be like the businessman who does not wait for the next birth to collect his profit, but rather strives to acquire his profit in the same lifetime." Time is short, and the journey back to home, back to Godhead, is a long one, full of obstacles. How am I going to achieve this goal? I know that going back to Godhead is not child's play. I am a dwarf trying to reach the moon. Mukam karoti vacalam, however, by your mercy anything and everything is possible. I know the goal cannot be achieved by going into seclusion, but rather by working hard for you, being active, and continuing mysadhana and service for your pleasure. I know that I have lots of shortcomings, but I am willing to endeavor for perfection. As mother Yasoda attempted to tie the Lord to the mortar, she found the rope always two fingers too short. Finally, the Lord allowed her to tie Him. This became possible by the determined effort of Mother Yasoda and the kindness of Krsna towards His devotees.
I am maintaining the desire to study sastra more deeply-your books-and to become well versed in Sanskrit and in music for singing, so as to fill my whole life with Krsna-katha and share that with as many as I can . When you awarded me sannyasa more than twenty five years ago, I had an idea to concentrate on just studying and preaching. However, you did not encourage me to do just that, but rather to combine my studying and preaching with administrative duties. At this stage in my life I would like to take up studying and preaching more as full-time assignments. You did not want me to do that then, and I hope that my doing it now going against your will. You gave me a direct instruction to do padayatra, which I will continue to do with all my strength and heart.
My life is full of many imperfections and shortcomings; I have committed lots of offenses at your lotus feet. I beg, Srila Prabhupada, for your forgiveness and for the spiritual strength to work on eliminating the balance of anarthas in my heart. On this occasion I would like to also beg forgiveness from all the devotees that I may have offended, knowingly or unknowingly. Vaisnava-aparadha is the biggest stumping block on the way back to Krsna. Once again, Srila Prabhupada, please bless my endeavor of attempting to go back to Sri Krsna. Many, many thanks for everything you have done for me. Thank you for putting me on the right track, on the path back home.
Hoping to see you there alongside Sri Krsna, I remain Eternally and sincerely yours,
Lokanath Swami
.